ADUMA ART, Gabon
This Aduma head has been vetted as authentic with signs of tribal use.
---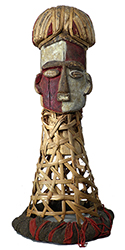 ADUMA
Headdress 1
25" high
$3000
---
Despite their appearance, theAduma objects below show no evidence of age or use and were probably made to be sold.
Photographs © Hamill Gallery
ADUMA, ART, Gabon
Aduma objects are characterized by their flat surface and domed foreheads. They are often painted in four sections, alternating light and dark..
GO TO ADUMA MASKS ARCHIVES PAGE (ALL SOLD)