BOZO MASKS, Mali
This mask has been vetted as authentic with signs of age and use.
---
The masks below have been vetted as authentic, but show few signs of age or use.
---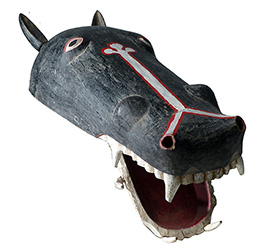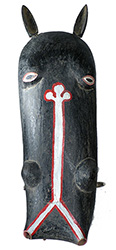 Bozo
Mask 13
38" long x 14" wide x 10" high (horizontal with jaw closed)
$1200
Photographs © Hamill Gallery
BOZO MASKS, Mali
These large colorful masks are assembled from several pieces of wood, carved, then decorated with paint, metal and fabric. They were sometimes displayed on boat prows, since the Bozo fish on the Niger River. They are neighbors to the Bamana and Marka who also make masks covered in metal.
GO TO BOZO MASKS ARCHIVES PAGE (ALL SOLD)
GO TO STAMPEDE EXHIBITION PAGE

GO TO MASKED, I ADVANCE EXHIBITION PAGE
GO TO MASKS PAGE
GO TO AFRICAN METALWORK PAGE
GO TO AFRICAN METALWORKS EXHIBITION PAGE
GO TO MONUMENTAL MASKS PAGE