KISSI CURRENCY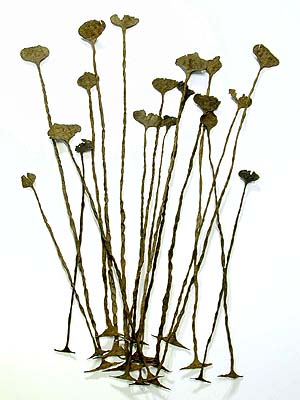 Photographs © Tim Hamill
KISSI, "Pennies", Iron, Sierra Leone
These iron forms were recognized and used as currency for minor transactions.

Each has a complete top and bottom and are unbroken.
9-12" = $6@

Photographs © Tim Hamill

KISSI
"Pennies" Currency Bundles of 100
$300
Iron
Sierra Leone

Bunches are similar to those pictured, tied with twine, of 100 pieces of unbroken Kissi currency. Most of the individual pennies measure between 10" and 12", the bunches measure about 12.5" in height.
GO TO KISSI CURRENCY DISPLAY PAGE
GO TO KISSI CURRENCY 2 PAGE
GO TO KA-CHING! EXHIBITION PAGE
GO TO CURRENCY EXHIBITION PAGE
GO TO METALWORKS PAGE
GO TO METALWORKS EXHIBITION PAGE
GO TO METALWORKS EXHIBITION PAGE 2