YORUBA ADIRE TEXTILES, Nigeria
These were all photographed as installed in the Take a Seat exhibition.
Photographs © Hamill Gallery
YORUBA, Adire Textiles, Nigeria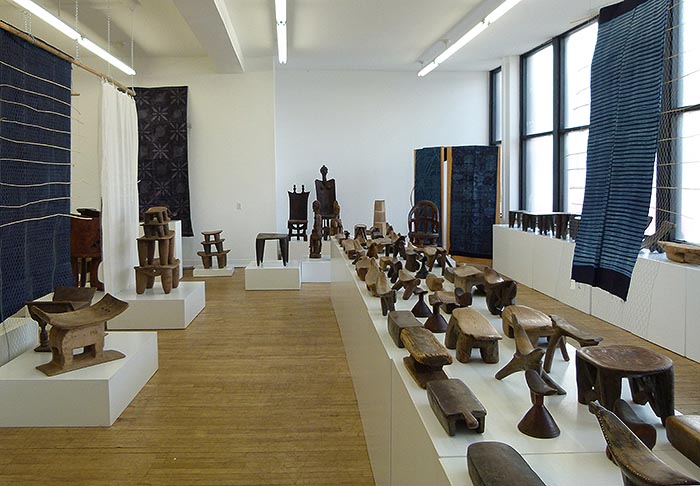 These were all photographed as installed in the Take a Seat exhibition. Three textiles, 1001, 1012 and 1020, were hung and photographed folded over and the complete textiles were not viewable. The sizes given are for the whole cloth.
Adire is the name given to indigo dyed cloth produced by Yoruba women of south western Nigeria using a variety of resist dye techniques. Adire translates as tie and dye, and the earliest cloths were probably simple tied designs on locally-woven hand-spun cotton cloth much like those still produced in Mali. In the early decades of the twentieth century however, the new access to large quantities of imported shirting material made possible by the spread of European textile merchants in certain Yoruba towns, notably Abeokuta, enabled women dyers to become both artists and entrepreneurs in a booming new medium. New techniques of resist dyeing were developed, most notably the practice of hand-painting designs on the cloth with a cassava starch paste prior to dyeing. This was known as adire eleko. Alongside these a new style was soon developed that sped up decoration by using metal stencils cut from the sheets of tin that lined tea-chests. Another method was to use sewn raffia, sometimes in combination with tied sections, while other cloths were simply folded repeatedly and tied or stitched in place. (1001, 1005, 1006, 1007, 1009) The basic shape of the cloth is that of two pieces of shirting material stitched together to create a women's wrapper cloth. Most of the designs were named, and popular designs included the jubilee pattern, (first produced for the jubilee of George V and Queen Mary in 1935), Olokun or "goddess of the sea", and Ibadadun "Ibadan is sweet" (1012, 1013, 1014, 1016, 1017, 1020, 1021).
GO TO YORUBA ADIRE TEXTILES ARCHIVES PAGE
GO TO TAKE A SEAT EXHIBITION PAGE
GO TO YORUBA ART PAGE

GO TO YORUBA 2007 EXHIBITION PAGE

GO TO AFRICAN ARTIFACTS PAGE

GO TO AFRICAN TRIBAL COSTUMES PAGE

GO TO NEW ADDITIONS PAGE